England: 99 all out in 19.5 overs | 87 minutes (4.99 runs per over)
Stanford Superstars: 101 for no loss in 12.4 overs | 58 minutes (7.97 runs per over)
The Stanford Twenty20 for 20: what was it all about?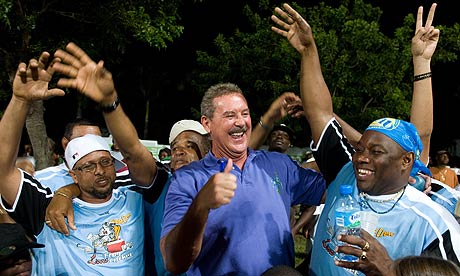 Nasser Hussain meets Allen Stanford

Mail Online: 02nd November 2008 | 2:45 PM

Nasser Hussain: It's fair to say, though, that the concept has received criticism in the press in the UK. Why do you think some sports are happy to sit alongside large sums of money, yet cricket doesn't seem so comfortable with it?

Allen Stanford: Well I think, Nasser, that you're an old cricketer, not too old, and know the stoic past of cricket and its history. It's a gentlemen's game etc. And it's evolved to a whole new level.

Sport is about entertainment, pure and simple.
Sport is about money, pure and simple, and people want to come and be entertained.

If it doesn't have those things in place, it won't have a future and cricket, I think, has been slow to evolve to that. Test cricket will always be here, but I think the 50- over game has had its day, come and gone, because it's still seven or eight hours long. I think Twenty20, because of the three-hour duration of the game, is the future. And that's about the time span people have these days. I've always said I'm not a purist and I make no bones about that. I've always said with Test cricket that I can go and spend three or four hours there but I'm not going to come back day after day. It is a game that's always going to be here, just like Lord's is the holy grail and the foundation of the sport. But the new evolution of the sport is Twenty20.

That's where we, in the Caribbean, can highlight some of this great talent we have. And get these kids back playing this sport again. If I wasn't doing what I'm doing, I can tell you this. And I'm not tooting my own horn here. If I wasn't doing this in the Caribbean, which is my concern because I don't care about any other parts of the world in terms of their cricket programmes right now, if I wasn't doing this, our cricket would maybe die.
A toot toot then, Mr Stanford, who do you think you are kidding?
If your motive is indeed honourable,
to prevent a probable death of Caribbean cricket, why not simply donate your millions
to rebuild the infrastructure of West Indies cricket
to revive the lost glory and magic.
Nope. Sports has never been just about "money, pure or simple".
And to many cricket lovers like myself, our entertainment is by good "cricket" -
NOT by the technicolors under flood lights, nor the dancing girls on the boundaryline.
What you are doing – is deliberately killing off the sport that is cricket, to promote the Stanford name.
Sports, in my understanding are activities to be engaged in competitively, where the capabilities of the competitor are the sole or primary determiner of the outcome of victory or defeat. Each individual sport is governed by a set of rules or customs and ethics; i.e. the philosophy dealing with values relating to human conduct, with respect to the rightness and wrongness of certain actions and to the goodness and badness of the motives and ends of such actions.
We inherited cricket from the British Raj,
we grew up learning from the English, the ethics of cricket …
It's not cricket – it's a jamboree of greed and self-publicity

Jason Cowley in The Observer | Sunday November 2 2008

More than any other sport, cricket was once imbued with an ethic of fair play; it was a game that revealed moral character. If you snicked the ball and thought you were out, you walked before the umpire sent you on your way. If you were not sure that you'd taken a clean catch in the outfield, you did not claim it. 'It's just not cricket,' we say if we think something is unfair or unjust. When we are trying to be brave or purposeful, when we are trying to face down problems, we speak of getting on to 'the front foot', like a batsman moving forward to face the ball.
… yet it is the same English who so spectacularly sold off the soul of Cricket … for nothing.
It is reported that the England's captain Kevin Pietersen has blamed lack of focus for his team's huge loss in the historic Stanford Twenty20 for 20 match Saturday night.
Pietersen blames lack of focus for England's defeat

"It started during the week, there has been a lot of nonsense and unfortunately I don't think we concentrated hard enough on our cricket," Pietersen said after the game. "The main focus should have been to come in and concentrate on our cricket and that's what we've got to focus on," he added.

Pietersen appeared to suggest that off-the-field issues that flourished in the media during the week triggered distractions for them and as a result his players delivered below-par performances at the critical time. Among the non-cricket issues that surfaced during the week was Sir Allen Stanford, the event's financier, "flirting" with English players' wives and girlfriends.
You could not do anything about it, you had sold yourself to the biddings of this individual.
For you each had written an expensive shopping list and he still had the millions you so wanted.
It wasn't a lack of focus.
It was about a bunch of individuals
taking to the field for the money "pure and simple"
having sold themselves to greed and threw in the soul of cricket for free.
I'd rather watch VVS Laxman win a man of the match cheque for a probably less than $2000 for giving me a 200 and a 50 to relish – than a player taking home $1m for participating in a circus.
I'll watchout the dying days of the sport I have known as cricket.
For all I care, Twenty20, IPL, Stanford superseries, Champions Series can all go to hell.
Technorati: