The Intercontinental Cup, returns to the fore of non-test cricket with the curtain raiser for this year's fixtures featuring one team was sat at the top of the table after two comfortable wins while the other was effectively already out of contention with only one win, a rained out draw and an innings defeats to their name.
For those of you who are wondering the first team is Kenya and the second is UAE. Kenya go into this game sitting comfortably on top of the log on 40 points six ahead of the Dutch and a further five ahead of the Irish but while it is expected that Kenya will easily smash their opponents when they meet in Dubai from the *15th of January as well as their nest opponents Namibia should their end of January clash get the go ahead it has to be noted that since the tournament was launched by a brave ICC with the backing of greats such as the late Bob Woolmer in 2004, Kenya have yet to taste glory in this competition with just about every misfortune (man made or otherwise) conspiring to keep the team from putting their best foot forward.
The closest the Kenyans have actually come to winning it so far was a final in 2005 which they lost to Ireland thanks to a second innings collapse sparked by a certain Andrew White. Other campaigns have been blighted by a player strike that meant Kenya could only field a reserve team that still made it into the semis before crashing to Scotland, while rain in their last match against Bermuda put paid to a dismal campaign in 2006 in which Kenya were knocked out in before the business end of the tournament. However with two wins under the belt this year Kenya have the bit between their teeth and with the next two matches being relatively easy, they should be heading into their bigger opponents with a healthy lead.
That is a far as the easy bit goes.
This year the fallout from the botched elections in Kenya mean that as of Monday the 7th of January nine days to the game the team has yet to reconvene from their Christmas break and with no real guarantee on security in Nairobi for the immediate future there is a real risk that the boys could find themselves travelling to Dubai seriously short of training.
According to local media sources regular middle order batman and part time leggie Collin Obuya will not be able to rejoin the squad from his stint with Australian outfit the Caboolture Snakes and although young star Alex Obanda has since recovered from an ankle injury the batting cupboard does look a bit threadbare. With the squad remaing otherwise unchanged the bowling will most probably led by allrounder Thomas Odoyo and Peter Ongondo with Hiren Varaiya and Jimmy Kamande being the spinners recently recalled paceman Alfred Luseno (believed in some circles to be the fastest bowler in Kenya) will get another opportunity to impress. If however he does miss out his place could go to veteran medium pacer Lameck Onyango.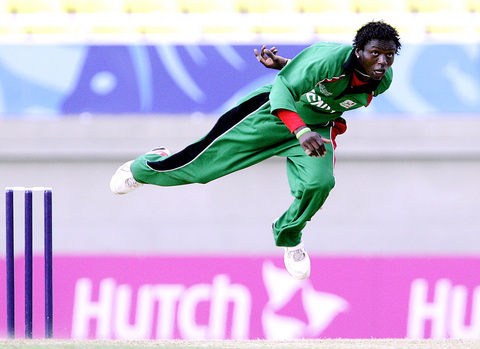 Nehemiah Odhiambo,
One of a few players who will be looking to impress this year in the Intercontinental Cup
*Kenya's match against UAE has been shifted to early February ther scheduled home match against Namibia will be played on January 29th in Sharjah instead.
Sphere: Related Content